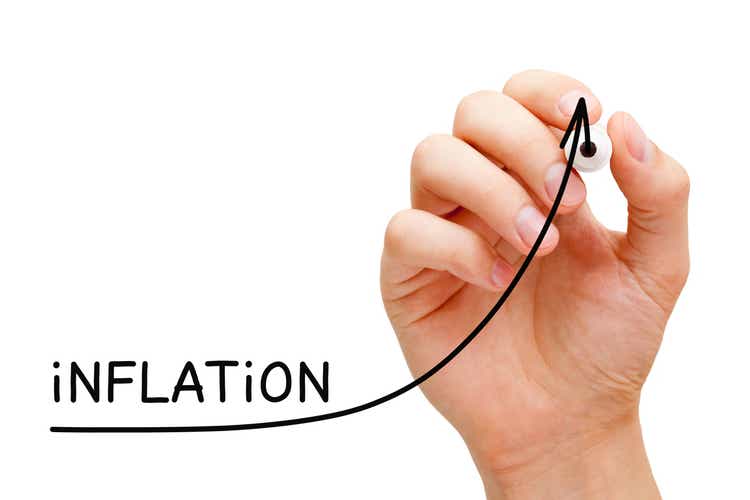 As shown below, we cover a large swath of mortgage real estate investment trusts, more commonly known as mREITs: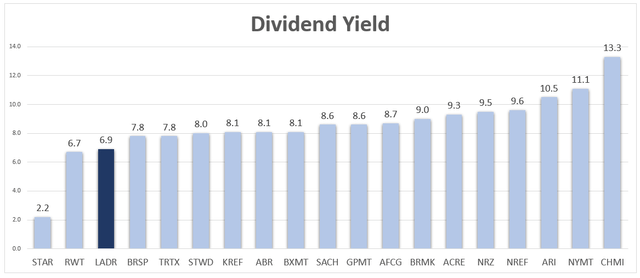 For most mREIT investors, dividend yield is the go-to metric for selecting stocks. But we believe it pays more than just dividends to carefully examine each security.
Payouts are only as strong as the companies behind them. So we want to fully understand how each business we consider buying works.
In May 2015, almost seven years ago, I wrote an article titled, "Climb This Ladder With A Margin Of Safety." In it, I provided an inaugural buy for shares in one mREIT I've written about since more than once: Ladder Capital (LADR).
I summed up the article by explaining:
"While most mREIT investors are seeking yield, LADR is taking a more prudent approach by creating value over time. I can see now why the market timers have ignored this alternative, but I'm not. I'm initiating a Buy recommendation on the shares at the current price (of $17.88)."
Admittedly, the rest of that year wasn't the best when it came to price appreciation, as you can see below…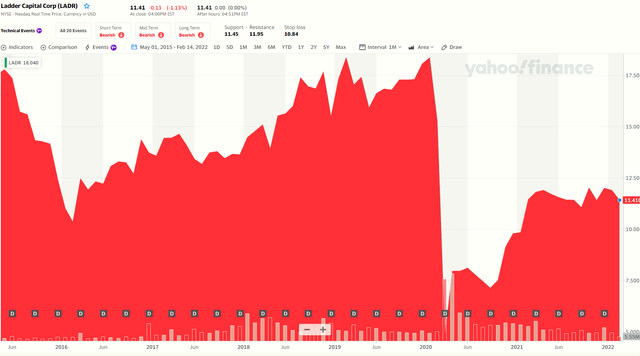 Redeeming My Ladder Capital Call
I do understand if some of you want to beat me up over that recommendation. But before you do, let me remind you of our gutsy call on April 7, 2020.
That's when we purchased shares of Ladder Capital in its darkest day. In that Seeking Alpha article, I explained:
"While I know we're living in unprecedented times, it does give me comfort to know that Ladder's management team is working 24/7. Maintaining adequate liquidity is critical, and that includes satisfying margin calls… their current distressed levels appear to reflect the expectation of insolvencies across the group that we do not believe are forthcoming.

"That's part of why we see the substantial upside with LADR and we have included it in our Cash Is King portfolio, remembering that we're living in unprecedented times."
Through a practice called "dollar-cost averaging," we bought a substantial heap of LADR stock in early April. And this round, the timing could not have been better.
On the one hand, we're not market timers. We don't believe in waiting around for black swan events to occur before buying in at the lowest possible price.
Then again… When those black swan events do happen?
Well, we're not going to let them go to waste.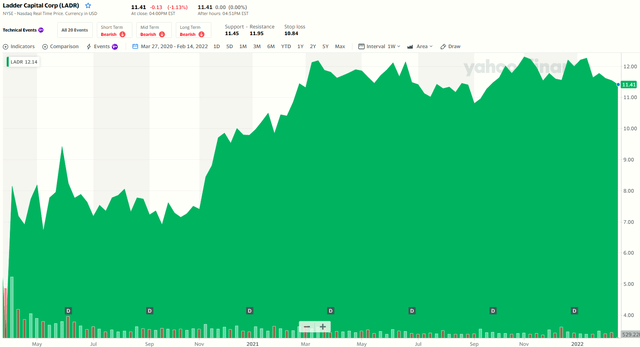 As of today, thanks to the price action since then, we've sold out of much of our position within the Cash Is King portfolio. So we're now back to blocking and tackling.
We showed before how LADR isn't the highest-yielding mREIT, at "just" 6.9%. But it does have a secret sauce that attracts us to its business model.
We believe there's still value to be unlocked… which you can learn more about by continuing to read below.
The Basic Business Model
For those who don't know, LADR was formed in 2008 and initially went public in 2014 as a C-corp.
Though it didn't stay that way for long.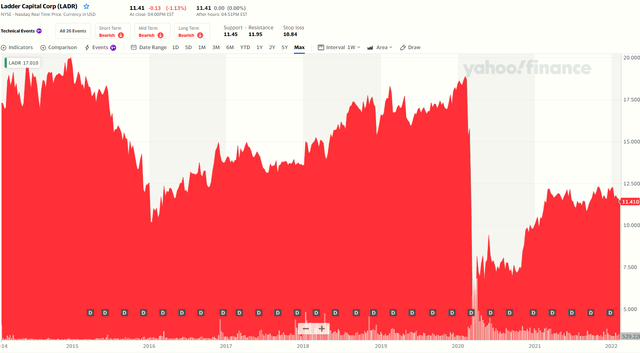 That same year, it began the process of converting to a REIT. Clearly, it succeeded in those efforts.
The company's primary business strategy is to originate and securitize first-mortgage loans on stabilized, income-producing commercial real estate properties. As such, it's one of the largest non-bank contributors of loans to commercial mortgage-backed securities (CMBS) securitizations in the U.S.
But LADR has a unique model where it doesn't rely exclusively on securitization for its revenue. It also earns a significant portion from first-mortgage balance-sheet loans and property rentals. That and expanding its commercial mortgage loan-origination reach.
This is all facilitated by a senior management team that averages 27 years of industry experience. And insiders (management and directors) own 11.4% of outstanding shares.
CEO Brian Harris alone owns 7.3 million, or 5.82% of the total.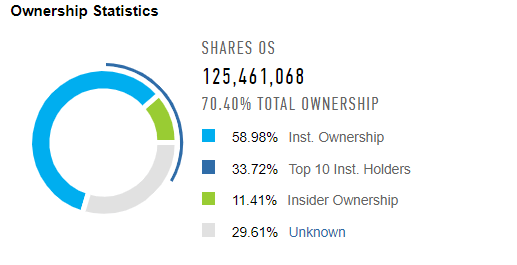 As already mentioned, LADR's fundamental business model is to loan against commercial real estate assets. It has sufficient scale and expertise to approach all major real estate asset classes and geographies in that pursuit.
Ladder ended 2021 with $2.9 billion of loans originated, including a record 92 balance-sheet loans totaling $2.7 billion. That resulted in the highest annual production of Ladder's balance sheet loans in Ladder's history.
Naturally, that allowed for strong earnings momentum throughout 2021. And the company continues to conduct rigorous credit standards and return expectations.
As of December 31, 65%+ of its $3.5 billion balance-sheet loan portfolio was post-COVID originated with fresh valuations and business plans. Plus, the composition of its holdings remains consistent.
And it continues to be primarily comprised of lightly transitional loans with a weighted average loan-to-value of 67%.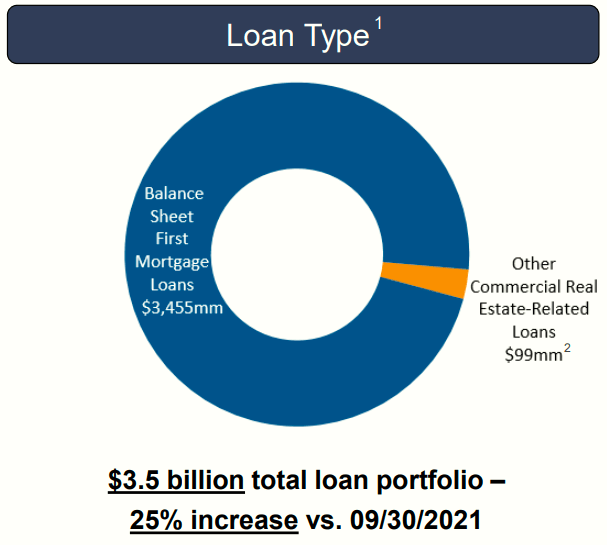 More About How Ladder Capital Operates
In Q4-21, LADR originated $1.3 billion of loans, including 43 balance sheet loans totaling $1.2 billion. That category's weighted average loan-to-value was 64% with a weighted average coupon of 4.43%.
Approximately one third of the balance-sheet loan originations were made to repeat borrowers. But so far this year, LADR has closed an additional $300 million of new loans. And it has a strong pipeline of additional loans under application.
For its conduit business, it securitized or sold $131 million of loans during Q4-21 for total gains of $2.7 million. One key differentiator for LADR is its average loan size – of around $23 million.
Once again, this makes it much more diversified than most of its peers.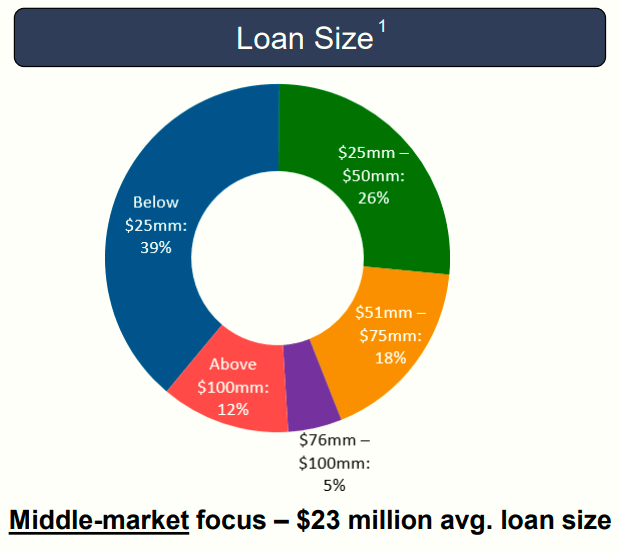 For context, consider Blackstone Mortgage (BXMT). It has a $24 billion senior loan portfolio comprised of 189 investments, or $127 million per asset.
LADR's $1.1 billion equity business, meanwhile, is primarily made up of net-lease assets leased to investment-grade tenants with necessity-based businesses under long-term leases. The portfolio contributed nicely to earnings during Q4-21 with $7.3 million of net gains…
Further illustrating the embedded value within the portfolio.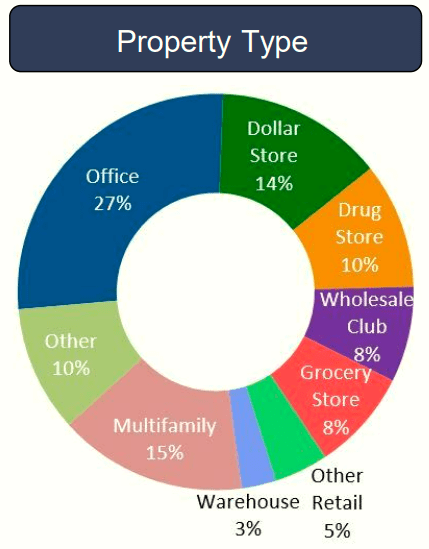 As of year-end 2021, Ladder's securities portfolio totaled $703 million. That's down from over $1 billion last January.
The company was busy reallocating capital into its balance-sheet loan business, which it believes currently offers the best risk-adjusted returns.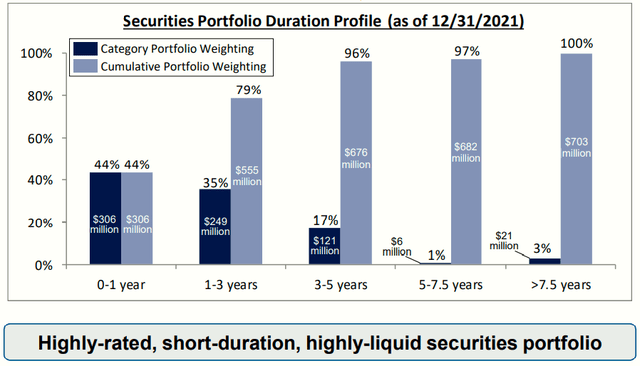 LADR's loan origination business was supported by $1.7 billion of capital raised during 2021 through two managed CLOs and an unsecured bond issuance. This included a second managed CLO closed during Q4.
This signals how LADR is moving closer toward its goal of becoming investment-grade – which will further reduce its cost of capital.
The Ladder Capital Balance Sheet
At the end of 2021, LADR's total liquidity was over $800 million while adjusted leverage was 1.5x net of cash.
Around 39% of its total debt was comprised of unsecured bonds. And 83% of total debt was from unsecured bonds and nonrecourse financing.
LADR maintains a differentiated approach to its capital structure within the commercial mREIT space through its exceptional use of unsecured corporate bonds. This is the best, most balanced, and safest way to finance a mortgage origination platform for the long term.
It boasts the highest corporate credit ratings in the sector – ranked only one notch away from investment-grade by two of the three major agencies. So, again, LADR is making substantial progress toward becoming an investment-grade company.
It also appears to be well-positioned to benefit from a potential rising interest rate environment – both by way of its large and growing portfolio of floating rate loans and its significant base of fixed-rate liabilities.
On the recent earnings call, Harris said:
"… we have been waiting for this turn toward higher rates, as inflation has taken on a more structural than transitory field in the last few months. By balancing our differentiated liability structure between a larger component of unsecured fixed-rate corporate borrowings and a combination of floating rate CLO and a minor component of short-term repo debt, we have positioned Ladder to let the Fed do some of the work for us in the coming year."

Sounds pretty attractive, right? In which case, keep reading for more of that commentary.
Ladder Capital Knows How to Handle Inflation
LADR anticipates that its floating-rate balance sheet loans will produce more income as short-term rates rise and average interest costs stay relatively fixed. Harris added:
"If short-term rates move up by 100 basis points, we project our net interest income to increase annually by approximately $0.16 per share. If they rise by 200 basis points, we project net interest income to increase annually by approximately $0.36 per share.

"That may sound like a lot of rate movement. But in the last 12 months, the yield on the two-year U.S. Treasury has climbed by a factor of 15 from nine basis points in February of 2021 to about 135 basis points last night, while LIBOR has only moved from nine basis points to 13 basis points."

The Federal Reserve, he said, hasn't been in touch with the markets for too long. So analysts are now predicting four to seven rate hikes in 2022.

"Also remember that, in 2019, one-month LIBOR was at 2.50% in a market that seemed to have only benign levels of inflation. Inflation forecasts look quite different today, and we believe Ladder's earnings will feel a nice tailwind in the quarters ahead."

Moreover:
"As I look back over 2021, the lending business was rather difficult, with astonishingly low prevailing interest rates and fierce competition. All lenders experienced high loan volumes and lower rates.

"However, those absolute rates allowed for credit spreads to be quite attractive relative to historical spreads. When we went into the pandemic, we had a floor of approximately 6.50% on our balance sheet loans."
Today, it's originating loans more quickly "but at rates with floors just under 4.5%." Which makes a difference.
Unlocking That LADR Value
Another unique feature of Ladder Capital's business model is that portfolio of net-lease properties mentioned before. Remember that a majority of its equity (owned) assets are net-lease buildings that include many brand-names like Dollar General (DG).
As of Q4-21, that portfolio was $575 million. And cap rates for these properties have fallen quite a bit over the last 3-4 years.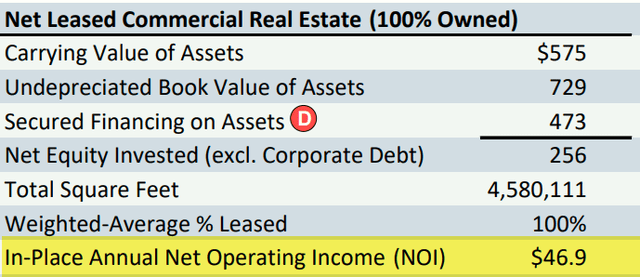 My back-of-the-napkin value for these assets – using $46.9 million net operating income (NOI) and a 5.5% cap rate – is around $850 million. Subtract out the secured debt ('CMBS'), and you have $380 million in equity.
Yet Mr. Market is providing no value whatsoever. To quote Harris again, public REITs:
"… are now absorbing and literally paying the prepayment penalties for us to retire some of our CMBS debt. So what you're seeing in these gains on sale with our triple-net properties are the net gains after expenses are taken out for prepayment penalties and things like that.

"… what is not showing any signs of deterioration is the public companies that are bidding on these things… we really don't feel like our real estate is appreciated in our stock price because we're basically a public company, and we're selling into other public companies."

So what's to be done? Harris hinted about the idea of a REIT spinoff:

"Perhaps we should sell our entire portfolio or else put it off balance sheet in a net-lease REIT that we manage externally. So these are all scenarios that we occasionally look through. But we haven't made any decisions in that regard just yet."
Very good to know…
In Conclusion…
In Q4-21, LADR generated distributable earnings of $27.7 million, or $0.21 per share. And for the full year, earnings were $61.3 million, or $0.49 per share.
As referenced earlier, with a large floating-rate balance sheet loan portfolio and predominantly fixed-rate liabilities, earnings are positively correlated to rising interest rates.

What this means is that LADR is perfectly poised to generate outsized earnings during inflationary times.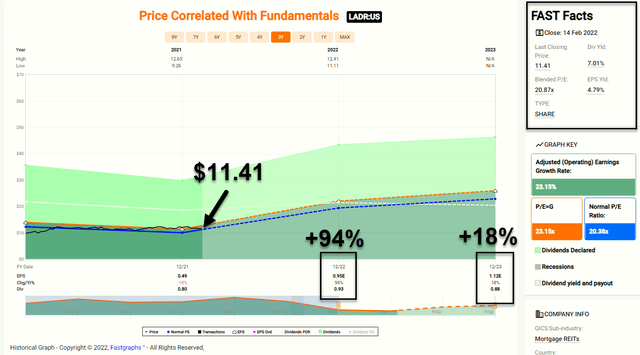 Shares are now trading at $11.41 with a 7% dividend yield. As illustrated above, analysts are forecasting growth of 94% in 2023, which puts the risk of a dividend cut in the rear-view mirror.
Given the solid Q4 and 2021 results – and expected dividend boost this year – we're bumping LADR's Buy Below target to $12.00. Our expectations are that LADR could generate returns of around 25% annually, which includes an attractive 7% dividend.