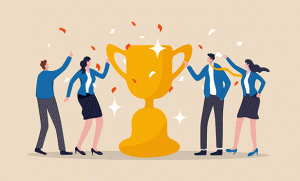 Throughout uncertain times in the past few years, many executive leaders in commercial real estate have stepped up and persevered as reliable constants within the industry.
While expertly leading their organizations and driving their companies forward, these executives stay on top of industry and workforce trends, display attentiveness to the well-being and success of staff, and offer transparent communication to employees and colleagues.
There are the one-in-a-million leaders that are ambitious, display financial prowess and exceptional people skills, and lead by example as inspirational, innovative executives – and GlobeSt. Real Estate Forum is seeking to identify and recognize these respected individuals. These professionals are not only profoundly accomplished within their field, but they serve as a boon for their organizations and the people within it. They are the leaders that others are clamoring to work with and for.
As true leaders manifest themselves through not only performance, but the way that their employees perceive them, GlobeSt. Real Estate Forum will determine what makes these executives "the best" by evaluating information and data collected from the viewpoints of employees.
As a trusted source of insight into the commercial real estate community, GlobeSt. Real Estate Forum will profile commercial real estate's Best Bosses of 2023 in its March/April issue.
The deadline for nominations is November 30, 2022. To apply, click here.
For additional information, please view the series' FAQs page.
To stay up-to-date on GlobeSt.com's commercial real estate coverage, we invite you to register for our daily and/or weekly email newsletters.
---
---