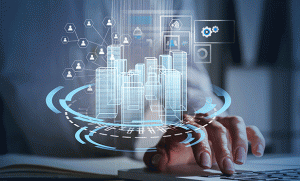 Commercial real estate is benefitting from new innovations that just a few years ago seemed all but out of reach. Propelled by the pandemic, these advances across the industry are furthering practices and promoting efficiencies.
By utilizing big data, artificial intelligence and smart mobility, commercial real estate professionals have improved upon and increased the use of tools, such as digital lease transactions, virtual apartment tours, communication applications, flexible payment options, crowdfunding platforms, telehealth services, e-commerce fulfillment center tools and more.
These processes are evolving daily activities across sectors.
Multifamily landlords are now able to use facial recognition to grant access to garages and interior doors. Warehouse automation is increasing accuracy, improving tasks and reducing costs for industrial real estate operators. Leasing agents are able to use dashboards to prioritize data and gain insight into customer leasing stages.
As more advanced technology enters the industry across various platforms, end-users will continue to benefit every day.
With this in mind, GlobeSt. Real Estate Forum is seeking commercial real estate professionals that assist companies in managing processes through their technological expertise and their ability to quickly adapt. These experts have impacted the marketplace through new and/or improved technology applications. Be it through their contributions to the industry, the vast successes they've racked up, or the innovations and best practices they've introduced to the business, these are the 2023 Influencers in Commercial Real Estate Technology.
The deadline for nominations is October 5, 2022. To apply, click here.
For additional information, please view the series' FAQs page.
To stay up-to-date on GlobeSt.com's commercial real estate coverage, we invite you to register for our daily or weekly email newsletters. 
---
---