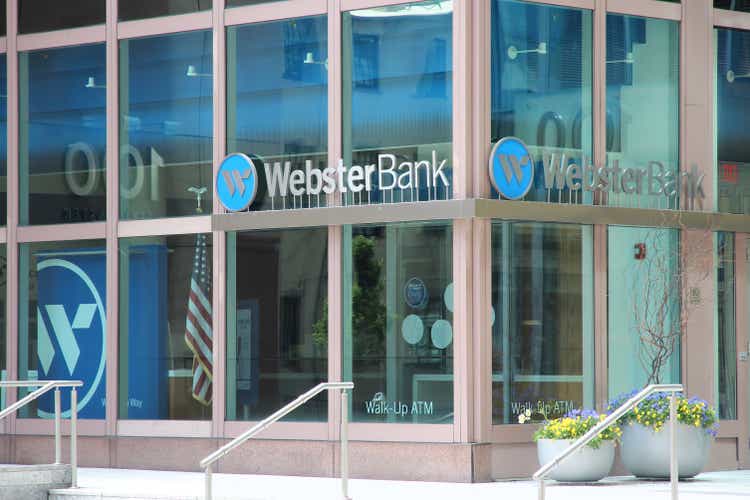 Even though the Street still has its issues with banks doing large M&A, sentiment has definitely improved around Webster Financial (WBS), with the shares outperforming its peers (and the S&P 500) by a healthy margin since my last update. I'd like to think that the Street is waking up to the longer-term strategic and financial advantages of the deal, but I suspect it has more to do with Webster having above-average asset sensitivity going into a tightening cycle.
With the Sterling deal now done, I think there are a lot of positives for the coming years. I like the increased focus on commercial lending, and I think there are good specialty niches that Webster can exploit in this up-cycle. I also like that above-average rate sensitivity, as well as the prospects for post-deal cost synergies, though that will be a two or three-year process to fully realize. With double-digit annualized return potential from here, I think Webster is still a stock worth considering as it becomes one of the largest players in its footprint.
Improving Core Results To Close The Year
Webster had a solid fourth quarter on a core earnings basis, with costs tied to the Sterling deal excluded from the numbers (fairly standard practice). Webster also showed some encouraging progress with loan growth, and the bank remains highly asset-sensitive.
Revenue rose about 8% year over year and 1% quarter over quarter, good for a 3% beat over the Street average. Net interest income rose more than 4% YoY and declined more than 1% QoQ, coming in just shy of expectations; net interest margin declined 7bp QoQ, missing by 2bp. Fee income rose 17% YoY and almost 8% QoQ, beating expectations by 13%.
Core expenses declined 1% YoY and 2% QoQ, coming in a little better than expected. Pre-provision profits saw a big year-over-year jump (up 21%) on the positive operating leverage and rose more than 1% QoQ, adding about $0.12/share relative to Street expectations. Provisions were also lower than expected, further boosting earnings.
Improving Trends Going Into The Next Cycle
While most banks saw lending perk up in the fourth quarter, Webster did a little better than average, helped in part by its leverage to more specialized niches like leveraged lending and ABL.
Overall core loans rose about 4% QoQ, with C&I lending up closer to 8%. Within that C&I figure, leveraged lending grew almost 30%, while asset-backed lending rose almost 9%. Total sponsor & specialty lending (blending in the leveraged lending) grew more 9% sequentially. I'd also note that originations were up strongly, growing 30% QoQ to $2.6B (against a period-end balance of $22.3B)
Webster didn't report the same significant decrease in non-performing loans (NPLs actually increased about 8% qoq), but criticized loans declined almost 25% and the credit situation here isn't a concern. Moreover, with a reserve of 1.37% of loans (ex-PPP), there could be room for more reserve releases.
Management believes that they can generate 8% to 10% loan growth on a sustained basis moving into this next cycle. That's not a conservative figure, but I think it's doable, particularly given the company's focus on more specialized commercial niches and the fact that other banks have bailed out of areas like leveraged lending.
Asset sensitivity is another plus in Webster's favor. With over 60% of loans floating and a solid core deposit base, helped by a large HSA bank business, Webster should have above-average rate sensitivity and manageable deposit beta risk.
The Outlook
It almost goes without saying that executing on the Sterling deal is a critical task for management over the next two to three years. I still like the opportunities the deal gives Webster to extend its specialty lending operations (including its asset-backed lending, equipment finance, and leveraged lending) into the NYC area, and the additional exposure to smaller business lenders that Sterling brings.
I'm also bullish on the scale provided by the deal. Webster will be smaller than M&T Bank (MTB), Citizens (CFG), and Signature (SBNY) in its core NY-CT-MA-RI operating region, but that's still enough scale to matter and to help drive growth at the expense of smaller players who lack the resources to really compete in attractive commercial lending categories.
Including Sterling, I'm expecting Webster to generate mid-teens earnings growth over the next decade, and earnings per share growth should be meaningfully higher as the bank looks to commit meaningful capital to share repurchases; the bank is over-capitalized (a CET 1 ratio of 11.7%, and even allowing for the need to fund the deal and upcoming loan growth), I think the company can execute on its target of returning 75% of earnings to shareholders (30% for dividends and 45% for buybacks). On an organic basis, I think mid-single-digit core earnings growth is possible as the bank benefits from a squeeze-out in its commercial operations.
The Bottom Line
Across all of my preferred valuation approaches (long-term discounted core earnings, ROTCE-P/TBV, P/E), Webster looks undervalued. A 12x multiple on '23 earnings supports a fair value close to $71, and I think you could make a case for a multiple as high as 13x based on superior growth and return potential. With discounted long-term earnings, Webster looks priced for a long-term double-digit annualized total return.
Webster has a lot of what investors should be looking for right now in banking – above-average loan growth potential, a strong core deposit base to fund those loans (and hold up as hot money deposits flee), asset sensitivity, and operating leverage potential. Given all of that and the valuation, I think this is a name worth a closer look.